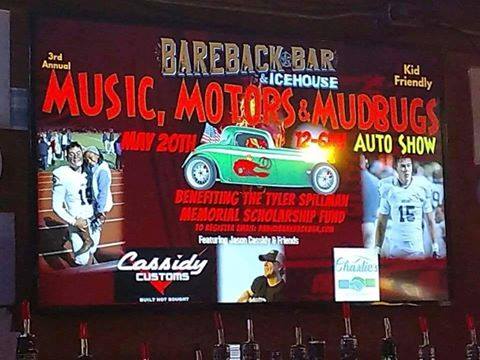 Scholarship Benefit!
May 20, 2018 @ 12:00 pm

-

6:00 pm

UTC-6

|

Free – $20
We will be holding our Inaugural Fundraising Event on Sunday May 20th, 2018
Bareback Bar and Icehouse has been incredibly generous in allowing us to partner with them in their annual Music, Motors & Mudbugs event!
Entry to the event is FREE for ALL ATTENDEES! Please scroll down to the RSVP section of this page and RSVP to receive your FREE All Attendee Access Ticket for the event.
The Auto Show will definitely be something that you do not want to miss. Last year, nearly 200 vehicles came to show off their stuff, so there will be plenty of eye candy! The categories will be: Classic Car, Jeep, Truck, Motorcycle, and Modern Muscle. There will be prizes given in each category! If you would like to bring your vehicle out to show it off, just scroll down to purchase a Vehicle Registration Ticket on this page, and download the Registration/Judging Sheet by clicking this link: bareback_registration_sheet_2018
**Please bring your filled out Registration/Judging Sheet with you to the event!**
In addition to the car show, we will be selling crawfish, snow cones, popcorn, & cotton candy, along with anything you could possibly want to drink! This event is KID FRIENDLY, and we will have a Bouncy House and more for the kids! We are very happy to announce that Jason Cassidy & Friends have agreed to play their incredible music at the event, and I do not have to tell you what an honor that is! This is going to be an amazing event, and a ton of FUN!
Please come out and bring your entire family. We will have plenty to do for ALL AGES!
We will be selecting 3 scholarship award winners from the pool of candidates, and will be presenting them with their scholarship money at the event! It will be UNFORGETTABLE!
For private donations that are received, your contribution may be eligible to be tax deductible by using our Tax ID (EIN) Number. If you require a receipt that documents your transaction, I have those as well. We are now set up to collect PayPal payments directly to: donations@tylerspillman.org, along with checks made payable to the "Tyler Spillman Memorial Scholarship Fund". You don't have to have a PayPal account to donate via credit card.
We are actively seeking community partners who are willing to donate money, products, or services to our cause. These items will be used as part of a raffle, silent auction, or Live Auction! The money raised will be used solely for scholarship purposes.
We are also seeking Corporate Partners who will sponsor items like the Artists, Prizes, Food, and Merchandise. If you own a company, work for one, or know of one that would be willing to help, please do not hesitate to contact them or at least let me know. Not only can their donations be tax deductible, but their logo will be used in Event Signage and displayed at the event. We will also include their logo on our website's Corporate Sponsors page, and we will proudly announce their involvement in our cause to thank them for their support!
Any products or services that you may be willing to provide can be arranged by contacting Gina Patino via phone (281) 793-4819 or email: patinogina@hotmail.com.
THANK YOU all for your continued love & support of the entire Spillman family as we try to honor the life of our son Tyler, and to continue his legacy of Excellence, Generosity, & Service!
-Justin & Yanisse Spillman
Share This Post